ICBDA Convention #47
Winston-Salem, North Carolina
July 5 – 8, 2023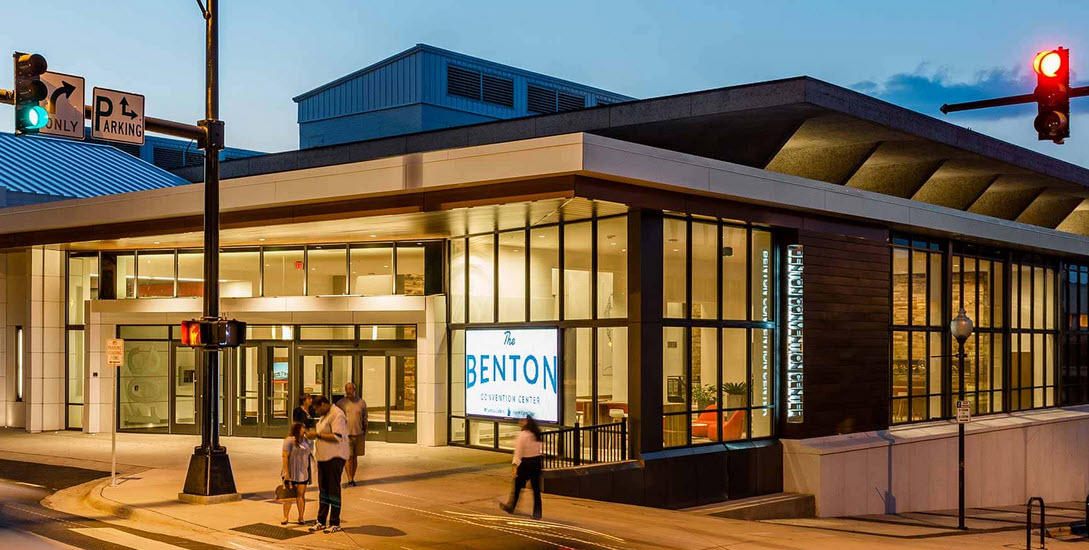 The Place to Be in '23!
Welcome Letter and Last Minute Details
Register for the Convention
Register online by Credit Card or Paypal
or
use the registration form on the flyer
Send with check made payable to "ICBDA #47 Convention" to our Registration Chair:
Roy and Janet Williams
517 Bay Road
Amherst, MA 01002-3504
If not a member click here to join.
(Attendees must have current memberships.)
Where Is It? The ICBDA Convention in 2023 will be held at the Benton Convention Center, 301 W 5th Street, Winston-Salem, NC, situated in the Twin City Quarter of the city. Here is a Map of the Benton Convention Center
Staying at the Host Hotel
Diagonally across the street is the Host Hotel, the Marriott Winston-Salem, 425 Cherry Street. ICBDA has negotiated a reduced rate of $136 per night plus tax at the Marriott, which is connected by climate-controlled covered walkways to the Benton Convention Center.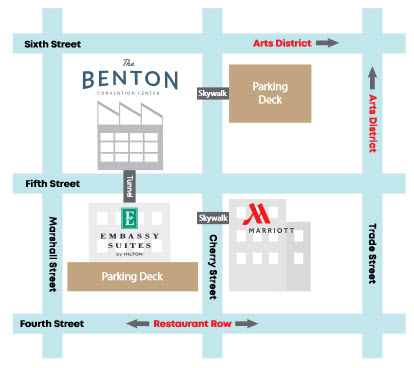 Reservation link for 2023 ICBDA Convention Group Rate
Important Note: By staying at the host hotel, you will not only get a good room rate, but you are also defraying the rental cost of the dance halls. Dancers staying elsewhere will pay an additional $100 ballroom fee ($50 for singles) to help offset their share of the ballroom cost.
Getting There: Centrally located in North Carolina, Winston-Salem is a 25-minute drive from Piedmont Triad International Airport (GSO). Five airlines fly into GSO: Allegiant, American, Delta, Spirit, and United.
The best way to get to the Winston-Salem Marriott from the airport is either by using Lyft or Uber. Taxi service is available, but it is more expensive than the rideshare companies. Several major car rental companies are located at the airport; however, a car is not necessary, as there are more than 45 restaurants, craft breweries, shops, and galleries within walking distance of the hotel and convention center.
What About Parking? For those with cars, two parking garages can be found nearby. Both are independently owned, so the rates might change by July of 2023.
6th/Cherry Street/Trade Street Parking Deck (Attached to the Benton Convention Center, this is the least expensive option):
– Weekdays: $3.00 first hour/$1.00 for each hour or part thereof, $9.00 per day max (includes overnight)
– Evening (arriving after 5 PM) or Weekends: $2.00
Cherry Street/Marshall Street Deck (attached to the Marriott Hotel):
– $20 per day for in and out privileges
– $25 per day for valet parking (Valet parking fee may be paid with hotel bill.)
Camping Options
Downtown Resources
Restaurant listings:
– Restaurants near hotel and convention center
– Tastes of Winston-Salem
Map to downtown from Visit Winston-Salem:
– Downtown Area
There are several attractions in or near Winston-Salem for those who want to make a vacation out of their trip. Visit the Winston-Salem Convention Bureau to find out more about the city and what you might be interested in seeing or doing.
We look forward to dancing with you all in Winston-Salem!
Diana and Earl Roy
ICBDA 47 Convention Chair
convention47@icbda.com
JL and Linda Pelton
ICBDA 47 Co-Chair
vice47@icbda.com